Hello, I'm
chris divecchio
I'm here to change your LIFE.
How My program can change your life
There is nothing more frustrating than trying to transform your body and failing. The internet and "expert" personal trainers all contradict each other. All you want to do is get fit, but you have no idea what to eat, how to work out, or how much cardio to do. My system has been proven with hundreds of client success stories.
When you train with me you get all the knowledge I've acquired over my twenty + years in the fitness industry. You have the fortune of skipping over all the failures I've experienced and the mistakes I've made and learned from. I've helped everyone from athletes to models to high-powered business men transform their body and more importantly their mindset. No matter your level of experience and body type, I'll create a custom program that will get you looking and feeling your absolute best along with the confidence and knowledge to sustain your results.
My Story
"I have been a part of so many extraordinary transformations that I believe deeply in people's ability to change. As a result, I often find myself fighting harder for my clients than they fight for themselves until they start to see the results at which point they then take over."
REACH YOUR
true potential
My client, Walter Fisher, wanted to get to less than 10% body fat in six months. He thought it was a lofty dream, but we turned it into a simple step-by-step process. Six months later, it was a reality. His incredible success story has been featured on: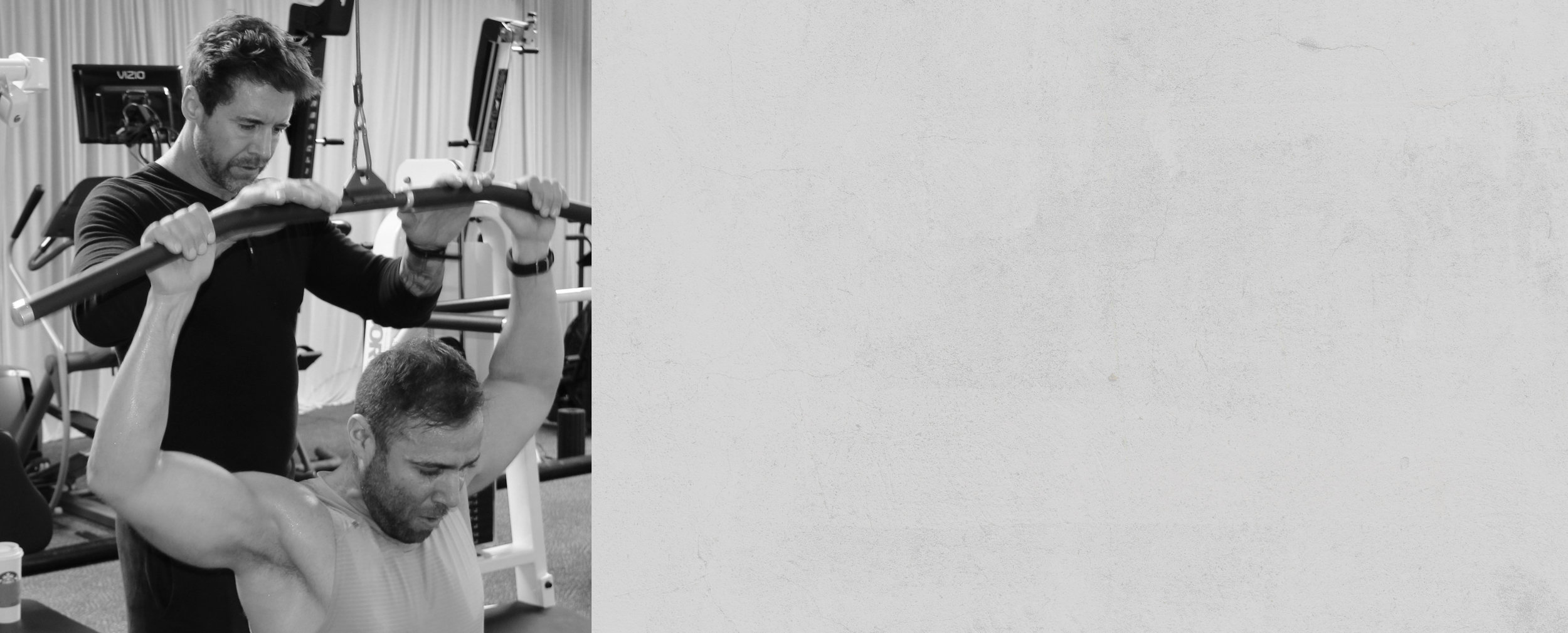 WHY MY SYSTEM WORKS
Transforming your physique is more than just a physical process. You need to change your mindset and lifestyle. My clients' wild successes comes from my accountability coaching. I get you invested in your goal and help you to eliminate your excuses by teaching you my technique on how to Master the Art of Adjustment. In my 90 Day programs I use a triangular approach which includes nutrition, training, and vitamin supplementation. Each is a pillar that's essential for creating your new physique. One size does not fit all. Every part of your program will be designed just for you.
transform your attitude towards fitness
"Working out with Chris has been amazing. His focus on the little details of form and technique is like no other. Those details help to ensure you are optimizing your workouts. His workouts aren't just physical but also mental which is different than any other training I have had. I'm so happy with my results."
- Desi Perkins, Social Media Influencer

how i can transform your physique
Building your profile
To start, you'll fill out your profile sheet so I can understand your habits, dietary restrictions and goals.
Creating your custom plan
After getting to know you, I'll build a training program that fits your lifestyle. It's easy to follow because it's designed for you.
Learn how to eat for YOUR goals
I'll work with you to design a meal plan that integrates into your life. Healthy meals can be just as simple to make and still taste great.
Enhancing with supplements
I'll recommend vitamins to complement your food plan to help you achieve your results faster.
Maximizing your workouts
I'll guide you through every workout, whether you're with me or watching one of my 300+ exclusive online videos.
Getting the support you need
I'm available 24/7 to help you get through those on-the-spot decisions and keep you accountable.
Keeping you accountable
We'll talk every two weeks about your progress. Then we'll make adjustments to keep you on track to your goals.
Train anywhere, anytime with
programs that fit your lifestyle.
My 5x2 Method
Your image of the world around you is created by your senses. My book can show anyone -- even children -- how to use those senses to develop a more optimistic outlook on life. This technique has the ability to dramatically reduce stress, improve your ability to be more present and open your eyes to answers that have been hiding in plain sight, by revealing the power of your senses.